Description
Speak French more naturally.
365 Days of French Expressions shows you how small doses of daily French expressions can add up to a year of effective learning. Learn how to sound like a "genuine" French speaker with the use of French expressions and idioms.
Recommended for French learners of all levels, this e-book is a perfect tool to supplement your French language study with a daily dose of French figurative speech, colloquial expressions and idioms. From the funny to the downright bizarre, learn to understand the meanings, literal translations and use it to add a natural flair to your French. The additional audio ensures that you can speak it properly, too!
Entertaining but full of insights          
Idioms provide interesting insights into the languages and thought processes of their speakers. By understanding theFrench Expressions and the translations, it will help you gain a clearer grasp of the French culture and mindset.
French Expression: Mettre du beurre dans les épinards
Meaning: To improve your financial situation
Literal translation: Put butter in the spinach
Example:
Il pense que je travaille pour mettre du beurre dans les épinards.  – He thinks I took this job to help out our finances.
Have fun while learning French
Years of teaching has taught me that expressions are something students love to learn. It is fun to notice the differences between your mother tongue and a second language. This short e-book will add fun and humor to your daily learning and introduce you to phrases and expressions you can seldom find in language courses and traditional books.
The only e-book in its category that comes with audio files to give your pronunciation a boost
The accompanying audio files make sure that you can follow along with proper pronunciation. The mp3 files are divided into weekly sections, allowing you to listen and practice on your own wherever and whenever you like: in your car, during a jog, on your commute to and from work, and while going about your daily chores.
Free downloadable MP3 in 2 versions:
        

French tracks only for pronunciation, and

        

French/English tracks with examples included
Develop a learning habit
This e-book is designed for you to learn a new expression every day of the year. You can devour this e-book in a few hours if you prefer, but if you can develop a learning habit by learning an expression each day, it may be much more beneficial in the long run. This book can be your first step towards the creation of a lasting learning habit.
Never forget useful expressions
At the end of each chapter/week, you will find a recap and a quiz to make the expressions stick to your mind. Memorizing French idioms and expressions has never been this easy and fun!
Technical details:
365 French expressions, idioms translated in English and literal meanings
Examples
Weekly quizzes and vocabulary recap
52 Audio files
Bonus E-Book: 250 French Proverbs
Get your copy today!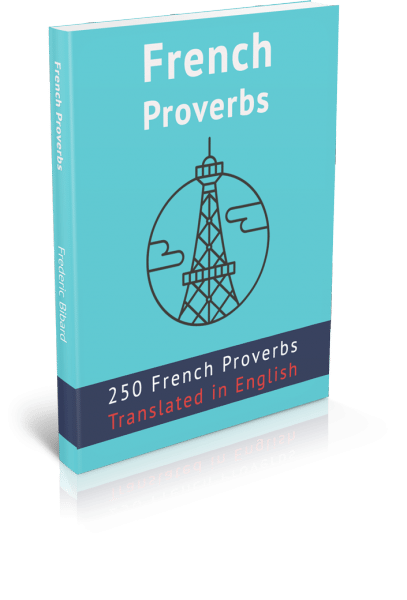 Only $6.90 / €6.60 / £5.90…